Demonstration Vessels for ASME Joint Review (multiple projects)
Pressure vessel design and fabrication drawing for ASME Code Section I and Section VIII Division 1, 2 and 3 accreditation.

Vacuum Tank Design & Fabrication Drawing
Tank designed to full vacuum conditions. Tank complete with full opening top lid, hinge assembly and pneumatic cylinder.

ASME Code Vessel Re-rate Calculations (multiple projects)
Shell, head, nozzle thickness evaluation to re-rated conditions. Check of vessel support adequacy.

Autoclave Evaluation
Fatigue evaluation per Section VIII Division 2 and lock ring analysis per Finite Element Analysis (FEA) methods.

ASME Code Section VIII Division 3 User Design Specification
Wrote User Design Specification for end user to commission fabrication of Division 3 vessel. (87,000 psi @ 122F).

Horizontal Tank Saddle Support Design
L.P. Zick saddle analysis Saddle support design for ethanol tank.

Boiler Steam Drum, Mud Drum Modifications & Repairs (multiple projects)
Shell, head, nozzle thickness evaluation

Boiler Piping Spools
Wall thickness determination per ASME Section I and ASME B31.1.

Locomotive and Steam Traction Engine Boiler Evaluation & Design
Material thickness calculations for tubesheets, boiler drum, firebox mud ring, firetubes, staybolts, of traction and locomotive boilers.

Miniature Boiler Design
Designed per requirements of Section I Part PMB.

Transmission Piping Pig Launcher & Pig Receiver
Design per ASME B31.8.

70' Stack Design & Fabrication Drawing
ASCE and IBC Wind & Seismic considerations.
Shell thickness design & fabrication drawing.

Incinerator Shell Design
Vertical Incinerator - shell 92' high x 7' diameter.

Skid Design – Equipment Packages (multiple projects)
Pre-piped packages – Pumps, Vessels, Exchangers, Fans
Layout, Member sizing, Weight, Center of Gravity, Foundation loadings, Wind & Seismic loads.

Onsite Equipment Installation Supervision
Automated Paint Blending System – Georgia
Chemical Plant Air Pollution Scrubber System – South Carolina
Refinery Air Pollution Scrubber System – Virginia
Boiler Plant Air Pollution Scrubber System – Pennsylvania
Scrubber Pilot Plant Removal – Mississippi, New Jersey

Quality Control System Administration
Managed vendor QC programs including writing Inspection Test Plans, coordinating customer onsite inspections, making inspection visits, assembling documentation into Manufacturers Data Books, for vendors working on projects in Canada, Switzerland, Qatar and Abu Dhabi.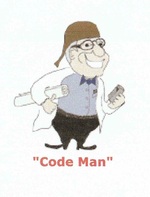 Code Man says . . . .

Our steam is well contained.



---