SouthPort Services - ASME Code Engineering . . . and more
SouthPort Services was started in 1986 as Southport CAD Services. Utilizing the newest Computer Aided Drafting equipment, SouthPort Services provided CAD drawings for small business, equipment suppliers and contractors.

In 1989, SouthPort Services began an association with a mechanical contractor aspiring to receive ASME Code and NBIC accreditation for boiler and pressure vessel fabrication and repair. From Quality Control Manual preparation through Joint Review participation, SouthPort Services provided the engineering portion of the contractor's Joint Review package. Upon successful certification, SouthPort Services continued a long relationship with this contractor providing calculations and fabrication drawings to satisfy ASME Code Section VIII Division 1 and Section I requirements.

In 1990, SouthPort Services began selling ASME Code design services to large and small contractors desiring engineering support for ASME and NBIC work. Our packages include the calculation book and / or fabrication drawing based on your needs.

In 1999, SouthPort Services added ASME Code Section VIII Division 2 design work to its list of capabilities. This Code section, involving alternative rules to pressure vessel design, requires Registered Professional Engineer evaluation. We have subsequently expanded to ASME Code Section VIII Division 3 design capabilities.

In 2006, SouthPort Services added onsite coordination of material installation at an owner's site. Different than construction management, SouthPort Services works with the owner and his installing contractor to make the contractor's presence minimally invasive on the owner's production facility, while respecting the contractor's needs to efficiently complete his work.

In 2012, SouthPort Services became involved in Quality Control programs for contractors and manufacturers supplying products to major construction projects throughout the world. We helped build Quality Control programs, wrote Inspection & Testing Plans and procedures, witnessed component testing with owner supplied independent testing agency representatives and gathered material and fabrication documentation for publication into Manufacturing Data Books.

Today, SouthPort Services is proud to offer a variety of services to help our customers insure that quality is built into their product.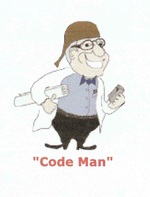 Code Man says . . . .

We're here when you need us . . . We're gone when you don't.



---