SouthPort Services - ASME Code Engineering
SouthPort Services provides ASME Code Engineering Services to the ASME Code fabricator and Repair Stamp holder. We can put together a design package and fabrication drawings to insure that your Authorized Inspector (and your customer) is satisfied that your Code product meets Section VIII Division 1, 2 or 3 and Section I requirements.
IT'S EASY . . .

Call SouthPort Services. When the job requires it, SouthPort Services provides ASME Code engineering services to ASME Code fabricators and repair stamp holders. One call . . . That's All
IT'S EFFICIENT . . .

Simply email, mail or fax us the job specifications and we'll prepare a proposal for engineering your Code Item the applicable ASME Code Section requirements. Each proposal includes lump sum pricing and lead times for delivery of the package.
IT'S ECONOMICAL . . .

If your ASME workload does not require a full time engineering staff or your engineering department is currently overloaded; SouthPort Services can provide the help you need.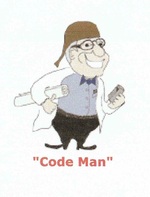 Code Man says . . . .

We specialize in ASME Code engineering design packages.



---